Introduction to Futures and Options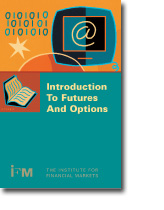 This 50-page monograph with glossary offers a concise overview for non-professionals on how the futures and options markets work.
Topics include:
Fundamentals of futures and options contracts
Market participants and institutions
Hedging and spreading
This primer is an ideal publication to educate back-office, administrative and legal professionals, new hires as well as potential investors.
Cost: $10 each, with shipping in the U.S.
To order: online click here or call 202.223.1528.