Anti-Money Laundering Compliance Program
For dates and locations click here.
Click to Register Online or call 202.223.1528.
The Institute for Financial Markets, a leading provider of education and professional conduct training, offers an Anti-Money Laundering (AML) Compliance Program for futures industry participants. The one-hour, Web-course helps futures commission merchants and introducing brokers fulfill their annual AML training requirement for employees as mandated by NFA Rule 2-9(c) and its related Interpretive Notice.
The online training course provides a clear understanding of the various techniques of money laundering and their threats to the financial industry. While students will learn about the regulations designed to detect, monitor, and prevent criminal actions, the primary purpose of the course is to enhance the judgment and sharpen the skills of the professional in their day-to-day conduct of futures business.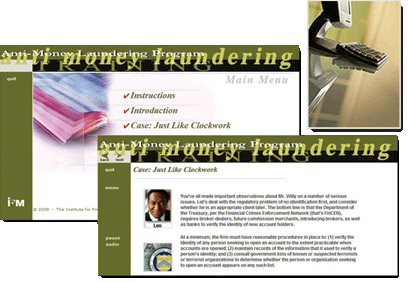 The interactive, audio-enhanced course is designed to help industry participants detect, prevent and respond effectively to attempts to launder money through their firms and the futures markets. The core of the training is built upon a hypothetical case study focusing on business activities in which a financial professional must exercise informed, practical judgment to determine how best to apply federal laws and regulations, industry rules and best practices, and firm policies and procedures that address money laundering. The case scenario highlights various "red flags" that help identify areas of money laundering concerns.
At the end of the case study there is a summary of key elements of an anti-money laundering program. Users are encouraged to review this information and may print the pages for future reference.
Cost: The one-hour, Anti-Money Laundering Compliance Program is competitively priced at $25 per person and volume discounts as well as cost-saving AML and Ethics training combination packages are available.
In addition, the IFM's training programs offer a FREE online Tracking and Reporting System that provides authorized administrators from firms the ability to monitor staff enrollments, training progress and print reports for internal and NFA audit purposes.
QUESTIONS?
Please contact us at 202.223.1528 or email info@theIFM.org or see our FAQs (Frequently Asked Questions).