Introduction to Security Futures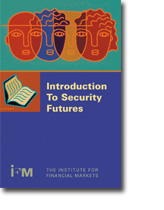 This easy-to-read monograph educates the professional and investor communities about newly-introduced security futures products that combine elements of both futures and equity securities.
Topics include:
Understanding single-stock futures and narrow-based index futures and their relationship to the cash markets
Applicable SEC, CFTC and self-regulatory organization rules
This primer is an ideal publication to educate back-office, administrative and legal professionals, new hires as well as potential investors.
Cost: $10 each, with shipping in the U.S.
To order: click here or call 202.223.1528.