Guide to U.S. Futures Regulation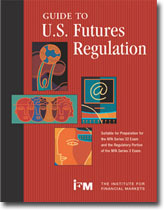 The 100-page Guide is the preeminent desk reference book for industry participants, regulators and National Futures Association Series 3 and 32 exam candidates. Updated in mid-2013, this comprehensive textbook includes Dodd-Frank Wall Street Reform and Consumer Protection Act, NFA and CFTC rule changes - all written in an easy-to-understand style.
The textbook prepares candidates for the regulatory portion of the Series 3 exam (the National Commodity Futures Examination) and is the companion text for the Futures & Options textbook. This IFM's Guide to U.S. Futures Regulation also serves as the study manual for candidates preparing for the Series 32 exam (the Limited Futures Examination-Regulations), an abridged version of the Series 3 test, that only covers U.S. regulatory programs. The Series 32 exam was designed by the National Futures Association (NFA), the U.S. to provide testing relief to individuals registered in qualified non-U.S. jurisdictions, such as Canada and the U.K.
IFM's Guide to U.S. Futures Regulation includes 250 questions with and detailed answers with commentary. These questions and answers let you test your knowledge and comprehension of the content, and help to reinforce learning and retention.
Cost: $65, plus $15 shipping each (in the U.S.) or actual postage (International). International postage rate will be confirmed prior to billing.
To order: click here or call 202.223.1528.